Hillview offers a full range of outpatient programs
to promote recovery and independence
Full Service Partnership (FSP)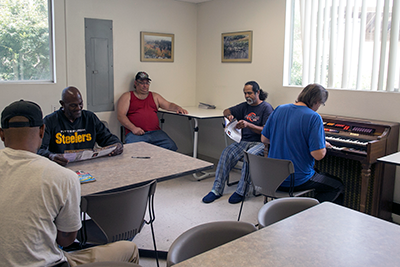 FSP is the most intensive of the programs we offer and is geared to people with chronic mental illness who are at risk of hospitalization and/or incarceration. Clients benefit from a full range of intensive, field-based mental health services including psychiatric care and case management. This program helps clients live in stable housing, form mutually supportive peer relationships and take advantage of local resources in their communities.
FSP programs are divided by age to best address client needs:
FSP for Adults (Ages 26 to 59)
FSP for Older Adults (Ages 59 and above)
FSP for Transition Age Youth (ages 16 to 25)
Recovery, Resilience and Reintegration Services (RRR)
This constellation of services assists clients who have progressed in their treatment and are moving towards reintegrating into their communities. As with FSP, Recovery, Resilience and Reintegration Services help clients find stable housing, form mutually supportive peer relationships and take advantage of local resources in their communities. Programs include:
Community Based Services, delivered in such settings as homes, primary care clinics and senior services.
Clinic Based Services, provided at the clinic at a frequency and intensity tailored to help each client in accomplishing his or her goals.
Well-Being Programs, which support clients to reengage in meaningful activities, realize their recovery goals and strengthen their connections in the community.
AB109/Forensic Services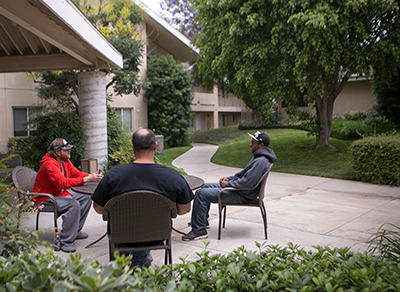 Many people with mental illness (often in combination with substance abuse issues) end up in jail or prison, where they do not receive the support they need. This program helps such individuals upon release from incarceration to transition back into to their own communities.
Outpatient
Outpatient programs provide comprehensive community mental health services for adults who have lower levels of need than those requiring FSP or RRR services.
Programs are divided by age to best address client needs:
Outpatient for Age 21 and Above
Outpatient for Ages 18 to 21
CalWORKS (California Work Opportunity and Responsibility to Kids)
A state program for welfare recipients, CalWORKS provides financial assistance while encouraging personal responsibility and a transition to employment and self-sufficiency. At Hillview, CalWORKS integrates vocational and mental health programs, and features a job specialist who guides participants through the job search process.
Prevention and Early Intervention (PEI)
Hillview Mental Health Center's Prevention and Early Intervention services (PEI) staff are reaching out to the general community to provide education and, if needed, counseling for individuals who are experiencing stressors or crises in their lives that may be eased by speaking with a professionally trained counselor.
The PEI program also provides longer term counseling and medication evaluation for those who may need more individual time with a professional therapist, for up to eighteen months.
This program, funded by contract with the Los Angeles County Department of Mental Health, helps both those who need coping skills to manage crises in their lives and those who also need assistance to manage longer term problems that may have become mental health issues.
Urgent Community Care/Adult Residential Services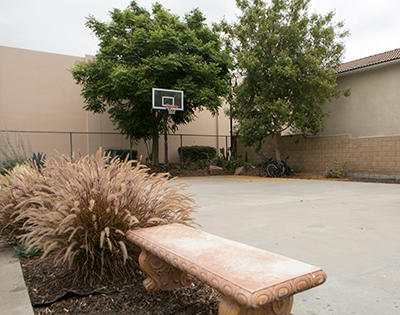 Jointly operated by the Los Angeles Department of Mental Health and Hillview, this program provides care and housing for people referred from Olive View Medical Center's Urgent Care program.
Housing
Individuals with mental illness cannot fully recover when they lack a roof over their heads. Hillview maintains permanent and transitional housing facilities, and makes additional room and board arrangements in the community. Hillview Village provides homes to 85 low income, chronically homeless clients.
Drop-In Services/Clubhouse
Hillview's Clubhouse offers clients the chance to socialize, explore and learn. The Clubhouse features a variety of activities including classes, movie screenings, interest groups, excursions and daily low-cost lunches.